I've always felt as though I was an adult, even when I was a kid.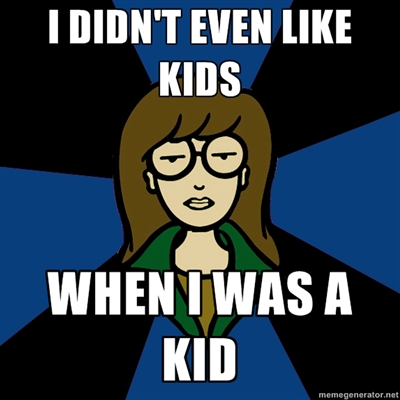 My father tells a story of taking me to a toy store when I was about ten. After a few minutes, I walked up to him and said, forlornly, "I think I must be growing up. I don't want anything anymore." I'm embarrassed for the certainty with which my 11-year-old self agreed with those general sentiments that make excellent New Yorker cartoons, thinking, "It's true… when I was a kid, Christmas did seem a long way off." Except that I still was a kid. I had no idea what I was talking about.
Maybe I'll feel the same way in a few years when I look back on my life now, but I can say now, with complete certainty, that this year has flown by. I have no idea how it's already March. I feel as though it was only yesterday that my Little Sister arrived here in Paris, and that was on December 31st. I think that someone has stolen a few weeks without letting me know.
Maybe it's because I've stumbled upon a job that I love. Maybe it's because I often work through the weekend, so I don't see the weekly breaks go by. Maybe it's because I spend most of my life in front of a screen, whether it's at home, in the car, in the métro or at the office. It's depressing to think about, and yet as of now, I've done very little to change it. I keep telling myself I have time, I have time. Maybe I do; maybe I don't.
I made this salad weeks ago, maybe months. It was the perfect way to play with Brussels sprouts, a favorite of mine that I very often roast simply with salt and oil and occasionally bacon. In this salad, the sprouts are shredded using a sharp knife and topped with discs of fried goat's cheese. Pomegranate seeds are scattered through the salad for additional crust.
I remember the first time I taught the Actress how to fry goat cheese this way, she thought it was magic. Now it's just normal, but there's still something nice about a beautiful, seasonal winter salad. You have a few more weeks to try this one; don't let the time get away from you. Before you know it, it'll be spring.
Shredded Brussels Sprout, Goat Cheese and Pomegranate Seed Salad (adapted from Heather Christo)
1 pound Brussels Sprouts
½ cup pomegranate seeds
1 shallot, minced
1 teaspoons grainy mustard
1/4 cup cider vinegar
1/4 cup olive oil
Kosher salt and freshly ground black pepper
8 ounces soft goat cheese, cold
1 egg
1/4 cup flour
1/4 cup seasoned breadcrumbs
½ teaspoon kosher salt
2 Tbsp. Olive oil for frying
Shred the Brussels Sprouts very, very thinly with a sharp knife. Transfer to a large bowl and dispose of the bottoms.
In a small bowl whisk together the shallots, mustard, oil and vinegar. Season to taste with Kosher salt and black pepper. Set aside.
Beat the egg until fluffy in a small bowl. Put the flour in a small dish and the breadcrumbs in another.
Divide the soft goat cheese into 8 even discs.
Lightly dredge the cheese in flour and pat any extra off.
Dredge the cheese through the egg, and then gently coat the cheese with the breadcrumbs.
In a medium sauté pan, heat the olive oil to medium-high heat. Fry the goat cheese balls until golden brown about 1 1/2 minutes on each side.
Gently toss the shredded Brussels sprouts with the dressing and season to taste with a little kosher salt. Transfer to a serving platter and top with the goat cheese balls and the pomegranate seeds.