What is home? I know that I'm not alone in not knowing. While the same question used to cause me an unbelievable amount of anxiety, I feel as though it doesn't trouble me quite so much anymore. But that doesn't stop me from thinking about it.
I started out with what felt like so many homes, spread across continents: the life of an expat, I thought. But expat life, sometime between 22 and 27, stopped feeling like an adventure and started feeling like normal. I never wanted to live out of a backpack. I wanted to live in a different country. Pay my taxes, rent an apartment, do my grocery shopping, buy socks. The concessions I made to this lifestyle at the beginning — traveling home twice a year, plus a handful of trips to meet visiting friends and family in other parts of Europe — were just that: concessions. Not that I'm complaining about my concessions. But they weren't the end goal. That wasn't the point.
Now, years later, most of my friends have decided where they want to live. Many are in New York, some are in Chicago. Of those who are not from Europe, I can think of a handful still living here. They've settled down elsewhere, and I'm not the only one who doesn't return home for summer. For Christmas. I find myself missing my concessions. My fractured sense of home.
I wasn't planning on going to Paziols this year. It hurt too much to think about returning. I don't remember if I mentioned it here, but for a brief but very intense moment, I had considered buying the house there, making that my home, a home that, when I first saw it, had terrified me with its raw unfinishedness, the exposed beams, the mattresses on the floor. I came from a world where everything had always been in its place. I had never felt so displaced before. And then, slowly, Paziols became one of those many homes, and I fell in love, again and again, over and over, the kind of love where you feel like it could never get any better, and then it does. And when I had to make the decision that buying the house couldn't come at a worse time, I was convinced I would never want to see it again. I knew that it would break my heart to say goodbye, over and over and over again, when the last time I had said à bientôt instead of au revoir.
I'm not convinced I was wrong, but I'm going back this year anyway.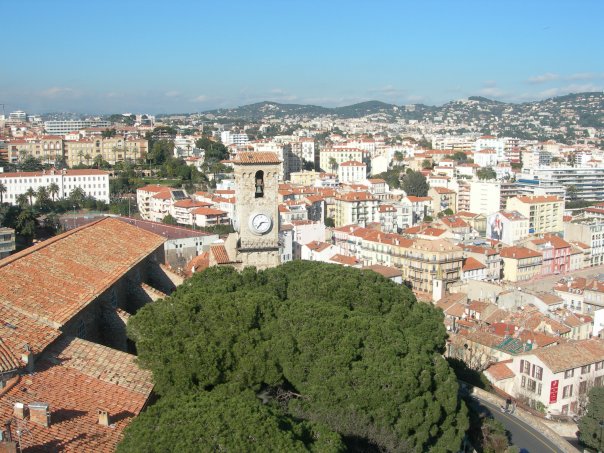 A bientôt has always been easy for me. I say it even when I don't believe it, but I've believed it for Cannes. To be completely fair, for years, it was true. For years the trip from Paris to Cannes seemed as easy as that from home at Pont de l'Alma to my favorite bar at the Luxembourg Gardens. I don't even know how many trips I made there in the first few years I lived here. But slowly, my connections to the place faded, and trips there seemed fewer and more far between. The last time I went was in 2010. I was so sure I would be returning at the beginning of 2011 that I left a box there, filled with books and Jergens lotion. I wonder if it's still there.
I'll be going to Cannes this summer, too. I'm scared to see how much it's changed.
I don't have the same liberty with the homes I'm supposed to call home, my "real" home, though my connection there feels no realer than any here… just different. The home that I grew up with, the home that was so normal that I don't have any pictures of it at all, is no longer ours. It belongs to someone else, someone I know, which means I could go. But saying goodbye is even worse when goodbye comes a year too late. Long Island isn't home anymore. New York isn't home anymore.
I think what I have to come to terms with — if you even can use such a phrase when the thing with which you are coming to terms is living in Paris — is that this is what home feels like as an adult. It feels like normal. It feels like knowing where the corner of the coffee table is in the dark. It feels like recognizing your neighbors.
It feels like having memories of another home, a home that someone else built for you, a home that you existed in but that was never really yours. I hope that someday I can give that sense of home to someone; I don't know if I'll feel it for myself again.
Barbecue Pork Roast, Corn, Avocado, Tomato (serves 4)
1 pork tenderloin
1 cup of your favorite barbecue sauce (I like this one)
2 cups corn kernels (fresh, if possible — leftover corn is great for this)
2 avocados, diced
2 cups cherry tomatoes, halved
1 green onion, thinly sliced
1 Tbsp. olive oil
juice of 1 lime
salt and pepper
Preheat the oven to 425 degrees. Coat the pork loin in barbecue sauce on all sides. Place on a rack and roast for 25 minutes per pound. Baste with more barbecue sauce if it looks dry during cooking.
Meanwhile, combine the corn, avocado, cherry tomatoes, onion, oil, lime juice and salt and pepper. Allow to marinate, outside of the fridge, while the pork finishes cooking.
Remove the pork from the oven and tent for 10 minutes before slicing. Serve slices of pork on top of the salad.