Welcome to tomato_kumato! I'm new at this, so we'll see how it goes. I basically want to share my love/any knowledge I have about food on this blog.
As an inaugural post, I guess I should explain this blog's title. A few weeks ago, I was at my local fruit market here on Long Island, where I'm working for the summer, known as the Fruit King.
The man who was working there noticed me checking out what looked like a heirloom tomato, and he came over to explain in broken English/Urdu that it was actually a Belgian engineered "Kumato."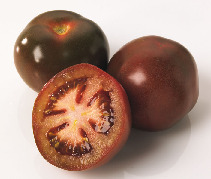 I was hesitant at first, but I read the packet the man provided for me and learned that not only is the Kumato all natural, but people all over the world are already enjoying it and using it in place of a regular tomato. Kumatoes have a stronger, harder skin than a regular tomato, and therefore a longer shelf life. Basically, a Kumato is a tomato that ripens from the inside out, so upon cutting into it, you get all that delicious juiciness without having it go bad and bruise on the outside. I don't know how the Belgians did it, but they invented french fries and waffles too, so I think we'd just better sit back and enjoy.
I took the Kumato home, sliced and salted it, and made my mother and brother my guinea pigs. We all agreed that it was just as sweet and tasty, if not sweeter, than a regular tomato. I have always liked the idea of mixing multicolored tomatoes in salads, but have found that orange and yellow tomatoes are usually blander than the red ones. I mixed the Kumatoes with tomatoes and used them in my family's recipe for bruschetta for dinner that evening. The bruschetta was a big hit, and ever since, we have been stocking Kumatoes next to our collection of tomatoes.
emiglia
Bruschetta
1 loaf day old crusty Tuscan bread
2 roma tomatoes
2 kumatoes
2 cloves of garlic, minced, plus one, halved
5 basil leaves
4 tablespoons extra virgin olive oil
salt
Dice tomatoes and kumatoes and place in a large glass bowl with mixed garlic, salt to taste, and chiffonade of basil. Combine with a wooden spoon. Add olive oil, and toss lightly to combine. Cover with a dishtowel and leave in a room temperature place for an hour.
Before serving, slice bread and place under the broiler to warm. Sprinkle cut sides of garlic with salt, and then rub bread slices with garlic. Top with tomato mixture and enjoy.