I share a lot of my life on this blog… so much so that I feel as though you readers — the ones who hang around fairly often, anyway — know me. I might not know you, but I've shared parts of my daily life with you; they're out there for you to see. I've talked quite a bit about my brother, who was here in Paris with me last spring, and recently, quite a lot about my sister, who is living with me now. But I have yet to talk to you too much about my other sister, the Actress, if only because in the six years that I've been living here in Paris, she hasn't come to visit.
Not that I hold it against her. Sure, she's out of touch most of the time and she shares my irritating tendency to never pick up her phone, which means we don't get much time to talk on a regular basis… but the second we're back in the same place, that sisterly instinct kicks in, and it's as though we're back in our double-stroller. And somehow, even if it's only twice a year, that's enough.
It's not that I don't wish she were here more often… it's just that she's got more important things to do.
She and I are very similar and yet very different, as most sisters are. But one important similarity is our conviction in what we want. Way before I wrote out a 21-page "novel" and sent it to the address on the inside cover of one of my Yearling paperbacks, my sister was convinced she was Shirley Temple. While I was hiding in the bathroom (the only room in our house with a lock), painstakingly typing out my stories, she was in the other bathroom, performing toothpaste commercials in the mirror for her own amusement.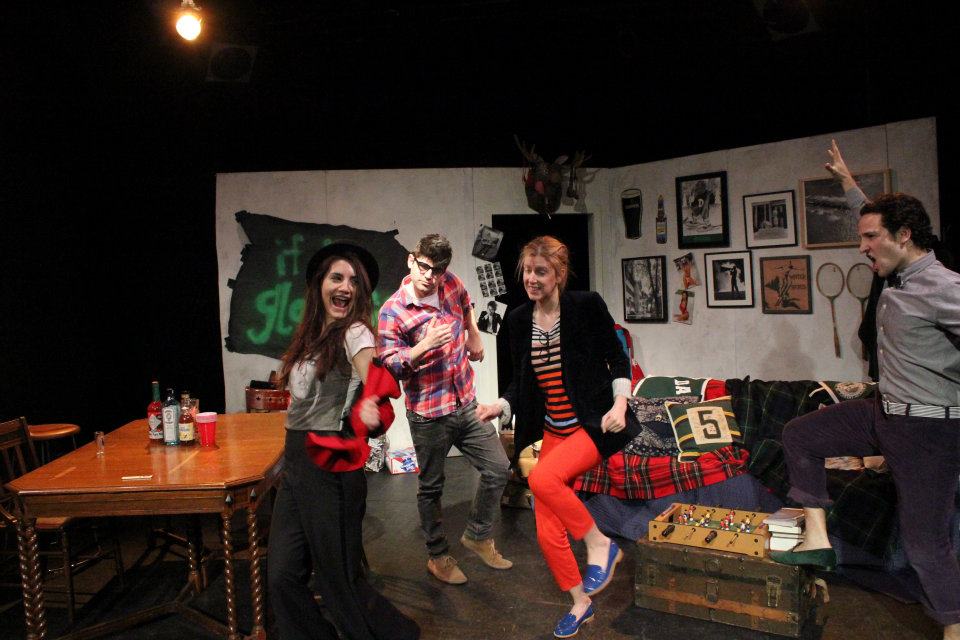 My sister has always wanted to be an actress… and whether it's because of all her hard work or just dumb luck, she's actually doing it.
Because of my nomadic trajectory, I've missed most of my sister's plays (though I was lucky enough to catch her playing the village drunk). One of her most recent roles was written by Genevieve Adams, one of her childhood friends, in a play that enjoyed sold-out performances before enthusiastic audiences. And I, for one, couldn't be prouder… especially since learning that the project is now headed for the silver screen: a movie remake of the play she was in, resulting in the possibility of a performance that I might actually get the chance to see. If you're interested in helping them out with their project, they've set up a Kick Starter to raise the funds to produce the movie.
So no, she won't be crashing on my floor like my other siblings have done, though there's a part of me that wishes she would. We'd sit on the couch and watch bad movies from the 90s, laughing uncontrollably and eating something like this: something simple with good flavors that's green, green, green. Because aside from her thespian tendencies, my sister is also an accomplished gardener.
For now, she'll stay on her side of the Atlantic, and I'll stay on mine. Who knows… perhaps one day we'll work together. Until then, I'm thinking of her… and I hope you will too.
Penne with Pesto, Peas, String Beans and Chèvre
6 ounces uncooked penne pasta
1 handful (about 10) string beans, strung and snapped in two
1 cup frozen green peas
3 ounces chèvre
2 Tbsp. prepared pesto sauce
3-4 turns of black pepper
3-4 leaves fresh basil
Cook the pasta according to the instructions on the box. When 2 minutes remain in the cooking time, add the string beans. Bring the water back to a boil. When the pasta is just a bit firmer than you like, add the green peas. When the water comes back to a boil, drain the pasta, reserving 1/2 cup of the cooking water.
Toss the pasta and vegetables with the chèvre, prepared pesto and pepper, adding cooking water to thin out the sauce as needed. Chiffonnade the basil and sprinkle over the top.